Welcome to the Begent family Genealogy pages, and enjoy your stay. If you want to meet other Begents or are researching Begent ancestors or family connections then read on .....


Origins

Begent is not a particularly common family name - it occurs most in the South East areas of England along with variants such as Baigent, Bageant, Bagent and Baygent. There are records particularly of Begents in the Hastingleigh, Hythe and Folkestone areas of Kent, Alfriston and Brighton in Sussex, Ockham and Chobham in Surrey, and Hammersmith, Kensington, Soho and Westminster areas of London. There are 123 people with the surname Begent over the age of 18 currently registered on the electoral role in the UK published in March 2000. There are also Begents in France and the name had heraldic connections with the areas around Blois and Auvergne in the centre of France.

Many emigrated and the name is found in Utah, New York and Washington states in America. William Bageant went to America in 1755 with General Braddock's army, and his descendants are found in Virginia and Maryland. There are Begents in Canada, and in South Australia and Tasmania. Not all emigrated voluntarily - Eli Begent was transported to Tasmania in 1812 "at his Majesty's pleasure....". Read his story by clicking on Eli Begent.

The name is probably French in origin: One explanation has it deriving from the Old French "bel" or "beau" = fair or handsome, and "gent" = well born or noble. Another is that it is derived from a religious association of women known as the Beguines who started in Liege around 1170 and established communities known as Beguinages in Flanders and the Netherlands. The male equivalent were the Beghards who first appeared in Louvain in 1220 and were spiritual communities often connected with the city craft guilds of weaving and dying. Their beliefs were condemned by the Catholic Church, and in the 13th and 14th centuries they suffered under the religious wars and accusations of heresy leading to scattering of the members. Their anti-establishment thinking was among the seeds of Lutheranism and Protestantism in Germany and the Low Countries. A few convents of Beguines still exist in Belgium.

It is possible that Begents arrived in England from France or Flanders in the 1500s or 1600s. The main causes of emigration from France around this time were the exodus of the Protestant Huguenots between 1562-1598 culminating in the Revocation of the Edict of Nantes in 1685. There are records of Begents, Bageants and Bajents in Kent and Surrey in England dating back to early 1600s. Baigents have been researched by Jim Baigent. To contact him and see his notes on Baigent ancestry click on Baigent

Begents in the Census of England 1841 - 1901

Click HERE to see Begent Records collected by Andy Begent from the Census from1841 - 1901.

Begent Contact Forum

Click HERE to enter the Begent Contact Forum. Here you can say hallo, meet others on line, share your family tree information and ask for help in tracing you Begent ancestors. Some of our correspondents have researched an amazing amount of information.

Click on these family trees which contain 1,182 Begent descendants in many parts of the World.

Search these family trees with an Index of Begent descendants. Kustel Family trees

Begent Search
Ancestral Begents extracts from the International Genealogical Index showing some births, christenings and marriages for 175 Begents in UK, USA and Australia from 1720-1920.

Search the family records of the LDS Family Search and Ancestry.com sites.
WW1 Begents extracts from the UK Public Records Office of Begent military records
Freshman

Chambers 20th C. dictionary defines a 'Bejan', from the french Béjaune 'Young Bird' or Bec jaune 'Yellow Beak', as a University Freshman (1st year student). In Scotland a Freshman is known at Aberdeen University as a 'Bajan' and at St Andrew's University as a 'Bejant'. Female first-year students are known as 'Bejantines'. In the Kate Kennedy pageant at St. Andrew's University there appears a 'Beardless Begent' who is a Freshman. Kate Kennedy was the niece of a historically important Bishop James Kennedy. The Scottish student's song book dated 1891 mentions in the St Andrew's section "The Bejant's Song".
French connection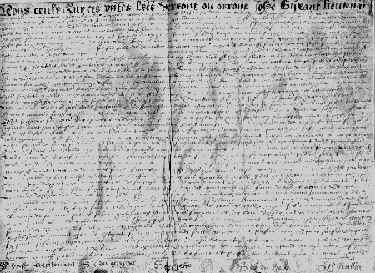 There are stories of a Fouchè Begent, Master of Deputies at the French Court, who escaped from France with his family during the French Revolution, a Rene de Begent - Captain of French Privatus Fleet, Red Rufus Begent, and Black Stephen Begent.
Joe Bageant has an original calfskin document from Lyon, France, which is a commission to a government post for a Leiutenant Joffse Bajeant dated 1566 and signed with wax seals by five French officials.
Family Memoirs
Read the personal stories of
Genealogy and Web Links
Links to the best Genealogy Sites on the Web, and Search the Web with 15 search engines and 100+ links
---